Home
FACs
More About FACs
The AO
A Shau Valley
• A Shau SF Camp
Hué
• Hué Cit Airfield
• MACV Compound
• LCU Ramp
• Hué Goose
Battle of Hué (Tet 1968)
• Trail FACs
The Missions
Visual Recon
• Sunken Sampan
Close Air Support
• CAS Munitions
• Rules of Engagement
• TACS
• Battle at Hua Cu
Interdiction
• McNamara Line
• Choke Points
Ranch Hand
Trail Dust Mission
Arc Light
SAR
Hammer 51 Rescue
Search for Jolly 23
• Msn Reports
• Search Area Map
• Search Rejoined
• Link to Past
Jungle Penetrator
Legacies
Aircraft
O-2A
Glossary
Resources
Contact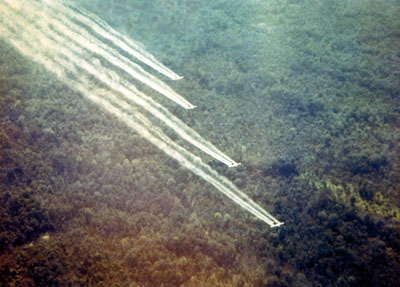 UC-123 aircraft on Operation Ranch Hand spray mission (USAF photo)
"The term Operation Ranch Hand was the military code name for the spraying of herbicides from U.S. Air Force aircraft in Southeast Asia from 1962 through 1971."

"Between 1962 and 1971, Ranch Hand sprayed about 19 million gallons of herbicide, 11 million of which consisted of Agent Orange. The spray fell mostly on the forest of South Vietnam, but some was used in Laos, and some killed crops to derive Vietcong and North Vietnamese troops of food. The military purpose for using herbicides on noncropland was to remove the vegetation cover used by Vietcong and North Vietnamese forces for concealment."
"Operation Ranch Hand: Herbicides in SEA"
William A. Buckingham, Jr.
Air University Review, July-August 1983
A Trail Dust Mission
Click here or on the image at left for a description of a FAC's view of a "Trail Dust" spray mission.

Click here for a brief video clip of a Trail Dust mission.



Operation Flyswatter: Insect Spay Missions • PDF • More
These missions by single uncamauflaged UC-123 aircraft to spray for mosquitoes over friendly bases were often confused with herbicide spraying. While not Agent Orange, the chemical used (Malathion) has been suspected as a source of health ssues among SEA veterans.


Click here for a brief video clip of an Operation Flyswatter mission. This one meets all the classic criteria: single, silver airplane over a friendly base whose inhabitants swear was being sprayed with Agent Orange.
Ranch Hand and Agent Orange Resources
The Air Force and Herbicides in Southeast Asia 1961-1971
(e-book, pdf)
William A. Buckingham, Jr.
Washington, DC: Office of Air Force History, 1982
Ranch Hand in Vietnam

(photo essay)
Air Force Magazine, October 2013
Operations Trail Dust & Ranch Hand
Global Security
"Down in the Weeds: Ranch Hand"
National Museum of the US Air Force
UC-123K Provider Aircraft
National Museum of the US Air Force
"Ranch Hand: Defoliant Operations in Southeast Asia"
(unit history)
Air Commando Association
Herbicidal Warfare in Vietnam, 1961-1971

(timeline, statistics)
• History
Vietnam Veterans of America
Veterans and Agent Orange: Health Effects of Herbicides Used in Vietnam
(e-book)
Committee to Review the Health Effects in Vietnam Veterans of Exposure to Herbicides
Washington, DC: National Academy Press, 1994
USAF Agent Orange Health Study
Air Force Research Laboratory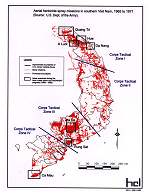 Map of Spray Missions in South Vietnam, 1965-71
Click on map or title above for larger image.
Map courtesy of the Hatfield Coinsulting, Ltd.


Gathering the Data For These Maps

(PDF)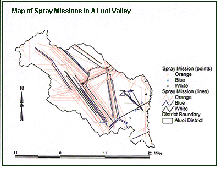 Map of Spray Missions in the A Shau Valley *
Click on map or title above for larger image.
* Now called A Luoi Valley - Map courtesy of the Hatfield Consulting Ltd.


Animated Map of Spray Operations in Vietnam, 1963-1970
Dr. Jeanne M. Stellman


Efforts to Mitigate Impact of Agent Orange in Vietnam

(Hatfield Group)


Overview of Preliminary Results

(1998, cached)


Overview of Mitigation Strategies

(2000, cached)



Agent Orange & Mitigation Efforts in Vietnam
Return to Top